It's Sunday morning and I am craving a dozen or two of these.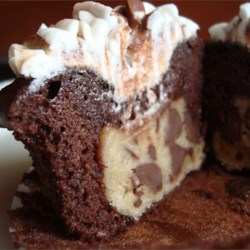 It's what happens to me when I go into Relief Society overload mode. Just keepin' it real, folks.

Chocolate Chip Cookie Dough Cupcakes
1 (18.25 ounce) box chocolate cake mix

1-1/3 cups water
1/3 cup canola oil
3 eggs
1 batch of your all time favorite cookie dough batter

Form the cookie dough into 24 tablespoon-sized balls; place onto a baking sheet, and freeze until solid, about 2 hours.

Preheat oven to 350 degrees F. Line 24 muffin cups with paper liners.

Beat 3 eggs in a large bowl with an electric mixer to break up. Add the cake mix, water, and canola oil; continue beating for 2 minutes on medium speed. Spoon into the prepared cupcake liners, filling each 2/3 full. Place a frozen cookie dough ball on the top center of each cupcake.

Bake in the preheated oven until a toothpick inserted into the cake portion of the cupcake (not the cookie dough ball) comes clean, about 20 minutes. Cool in the pans for 10 minutes before removing to cool completely on a wire rack. Recipe from AllRecipes.